The same reason everyone else does… To get away from me!
Bwa ha ha ha!!!
But since it's usually dead and gone by the time I get a hold of it, it has no chance to escape.  Sucker!
There is a meal that I love making, especially when I have a bit of angst to work out.  Hey, some people run to release tension. Others clean house, write or eat.  I cook.
Beating the mess out of a piece of helpless meat can be quite therapeutic.  Wielding a mallet while doing so makes the experience all the sexier and fun.  It's oh-so-thrilling to feel like Xena the Warrior of the kitchen, even if I don't own that outfit she wears.  Sometimes I do, however, sometimes cook in heels just to throw some more daring excitement in the mix.
Hey.  You deal with stress your way; I'll deal with it mine.
Okay, I admit that I like this meal even when I don't have stress issues.  It's just fun to see the light in the family's eyes when I announce what we're eating because they like this meal so much.  It probably helps that I don't make it often (why, I don't know because it's incredibly easy and inexpensive to make); scarcity really does make the offering so much more appreciated.
In fact, this meal is so easy to prepare that even a non-cooking man could whip this meal up and impress his wife with his culinary prowess.  If he does the dishes too, then it may lead to all sorts of appreciation on his wife's part.
Ahem.**
So, er, anyway(s), where was I?  Oh yeah, the dish.
Introducing:  Strawberry Chicken!
Can I just tell you now that I only use two chicken breasts to create this meal.  It not only feeds the 4 of us who have large appetites, but we usually have enough left over for one more meal.  It helps that I purchase my chicken at Sam's Club where the chicken breasts are large as I am.
Okay, not as large, but it seems like it!
Here it is pre-flattened.  I use the parchment paper to prevent the chicken from splattering all over the place.
Unless, of course, I feel a little Gallagher coming on…  But that's only when I want to clean the kitchen walls as well during the clean up period.  Which is never.  So do yourself a favor and fold it over the chicken and be happy with the knowledge that your clean up time will be cut to not-much because you were smart.
You can use the pointed sides of the mallet, but I prefer to use the flat side to break down the meat.  It keeps the meat more intact.
See all those little pieces of meat on the parchment paper at the top?  That's what you're keeping off your walls.  See?  I DO know what I'm talking about!
Now honestly, you don't have to flatten it.  It will still cook well; you'll just need to bake it a little longer than if you flatten it.  I just like the beating part.  I feel so permeated with power!  But, hey.  It's up to you.
Next, you're going to spoil the little sucker by putting it in a nice little milk bath.  You could even go all out and put some bubbles in it, but you would need to have a straw and an inner child dying to get out.  If it asks for a rubber duck, go back to beating it.  It should not be talking to you at all.  Or perhaps you should be laying off the wine…
Now make sure that you're ready for the next part.  Have this little place ready before you take the chicken out of the milk bath.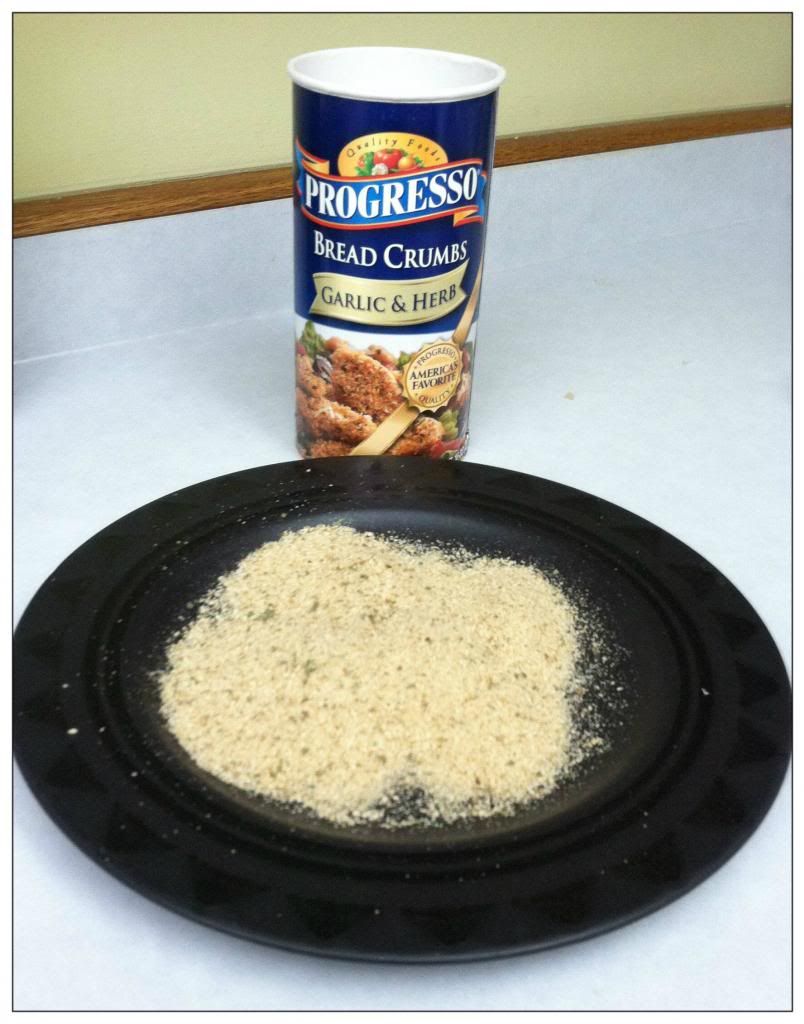 Let me state that I'm not a name brand type person. (Well, I am for a few things: Barilla is the only pasta I use and I only like Smucker's natural peanut butter.  Daisy sour cream is my go to, but that's only because they don't add anything extra to it.  It's just cream.)  Pretty much, I use generic for most things.  However, I'm not opposed to using name brand when I find it on such a good sale that I stock up on several cans of it because at 50¢ a canister, I will make room on my shelves!  I'm down to my last two cans.  That makes me kind of sad…
But at least I'm using it wisely!
Put the chicken in bread crumbs that have an Italian flavor to it.  If you buy plain bread crumbs, add some Italian seasoning to it for this dish.  Make sure that the chicken is completely coated.  Place it on a flat cookie sheet.
Now pop those breasts into the oven preheated to 375° for 30-40 minutes or until not pink in the thickest part.  Really.  Nothing ruins a meal like salmonella.  Acky.
Now here's where the strawberry part comes in:  Serve the meal with a dipping sauce of strawberry jam.  Actually, I love it with seedless raspberry jam or seedless black raspberry too!  I use whatever I have in the fridge at the time.  I would not, under any circumstances, serve it with grape jam.  That just seems wrong.
I change up what I serve with this meal.  This time I went with the French bread that I made and a Caesar salad.  Sometimes I serve it with broccoli cheese rice and peas or green beans and cinnamon honey carrots.  And I always try to serve it with wine.
But that's because I'm me.  I'm pretty sure it would taste just as good with iced tea or Mt Dew.  Maybe.  I really wouldn't know…
**I make no guarantee that you will get lucky with your wife for such acts of services. All I can say is that it won't hurt your chances at all.
Click here for a printable recipe.  Snarky comments have been removed for your convenience.