Yay!  Yay!  Yay!  It's the first day of Spring!  I'm so completely excited about this special day, the day when, if nothing else, I can leave winter behind in my mind.  I'd love to leave it behind altogether, but sometimes the temperature doesn't agree with my idea of weather bliss.
Give me a good solid 85 and I'm good to go. 
Spring is also the time to celebrate my love of reading!  Thanks to Katrina at Callipidder Days, we can all join in the read-a-thon during the Spring Into Reading 2009.  It doesn't matter if you commit to one or 28 books; the point is just to get reading!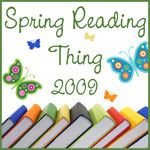 Since my reading has been hit or miss of late, I'm going to stick to some of the books that I KNOW I can get at any time from the library: the classics.  I'm sorry to say that at most any time, I can retrieve great literature from the shelves.  I can't say the same about new movies or mediocre, easy to read books.
Sigh.  That's just me being a book snob.  Sorry.
I've made it a point to pick out classics that I've not read, all but one.  (The one I have read, I'm reading again because it's been years and the title has been teasing me and calling my name for a while.)  I'm ashamed to admit that there are more on the "not-read" list than on the "been there, read that" list.  I aim to remedy that situation this time, at least by a few books.
The Bible (Luke, John and Acts) – Hey it's the ultimate non-fiction classic!

Sense and Sensibility – Jane Austen (Read it, loved it, need to read it again!)

Robinson Crusoe – Daniel Defoe

Last of the Mohicans – James Fenimore Cooper

Silas Marner – George Eliot

My Antonia – Willa Cather

Agnes Gray – Anne Bronte

The Secret Adversary – Agatha Christie

The following are your suggestions:

The Touchstone – Edith Wharton
The Moonstone – by Wilkie Collins

Around the World in Eighty Days – Jules Verne

Uncle Tom's Cabin - Harriet Beecher Stowe
Thanks for the suggested reading!  I can't wait to get started on them!  The list is still short, but at least it looks somewhat closer to normal.  Keep the suggestions coming please.
Oh, and so others won't think that I'm ignoring their fabulous reading ideas, I have read Rebecca, Ethan Frome, Little Woman, Picture of Dorian Gray, The Great Gatsby, Les Miserable, The Count of Monte Cristo, A Tale of Two Cities, To Kill a Mocking Bird, and all Jane Austen.  By the way, if you haven't read them, I highly recommend that you do, especially Les Mis and A Tale of Two Cities in the unabridged forms.  They are  exquisite stories which will make you cry, feel great about humanity and cause you to think about the story lines for weeks to come.
Now, if any of you follow me regularly, you will realize that this list is extremely short.  If you don't follow me, then… well the list is short.  I guess whether you read me or not doesn't come into play at all.  J  But I still need your help to get my reputation back on track.
Here's where you come in:
Tell me a classic that you think I should read during this reading challenge.  If I haven't read it, I'll add it to the list and thereby expand my mind. 
Come on and help a girl out here… I'm counting on you to keep me out of trouble and into books.  Besides, the kids are coming back home tomorrow and I need to give them the impression that I've not spent the time that they were away watching Season 3 of The Office….
PS:  Just to set a record straight, I wasn't looking for accolades yesterday about taking the girl in for the next week.  I was trying to let y'all in on what's going on in our world today.  I agree with what several of you said; this may be one shot for her to see Christ with skin on.  I hope God will use it to His full effect – for both the girl and the mother.